WELCOME & INTRODUCTIONS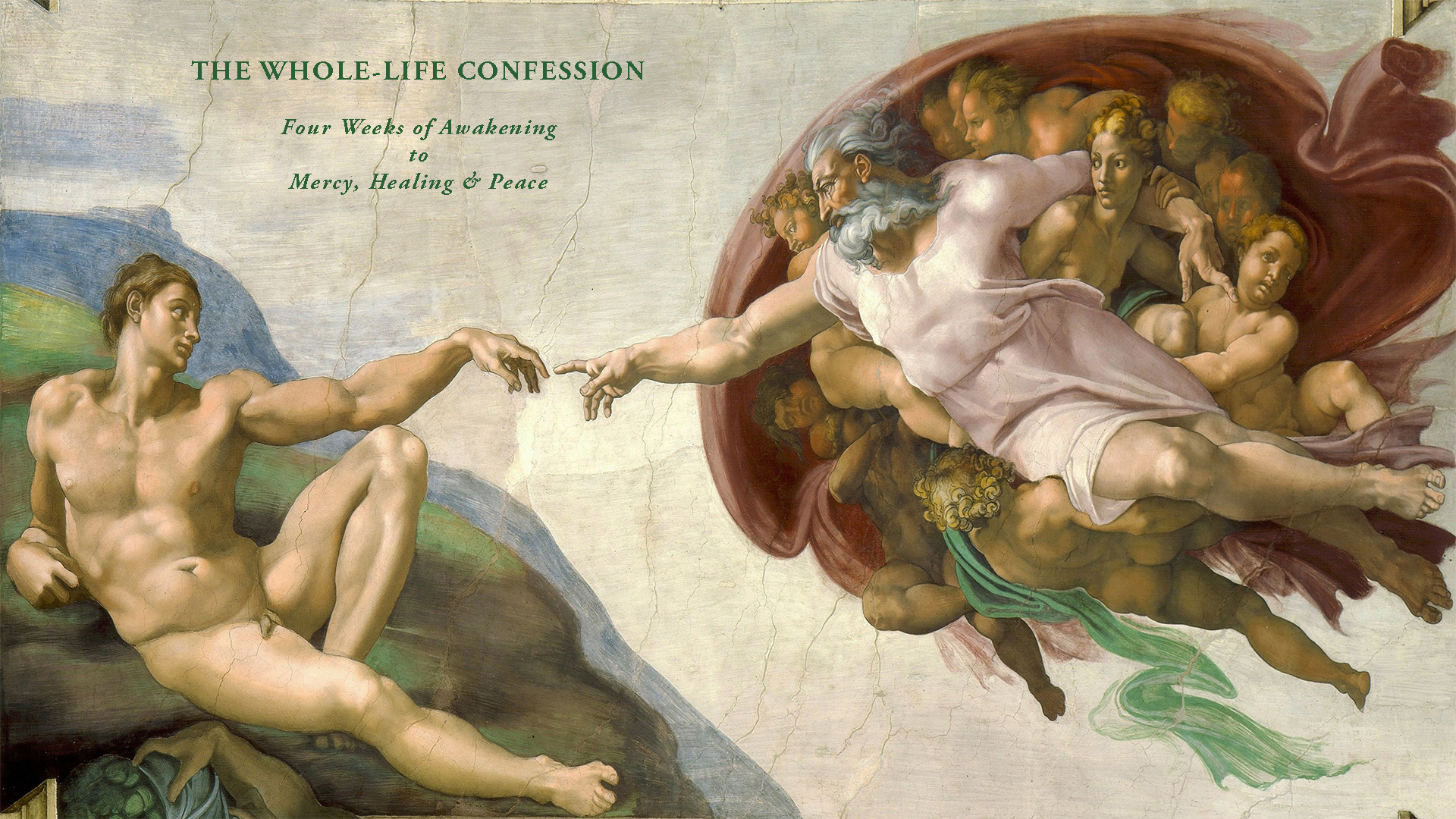 WHOLE-LIFE CONFESSION COURSE SCHEDULE.pdf
COURSE DEDICATION
Originally published as a book in 2016 in the year of The Jubilee of Mercy,
this course is dedicated to everyone who needs to discover how compassionate,
patient and merciful Jesus Christ is to those who long for his healing and forgiveness.
It is dedicated especially to priests who, as instruments of Christ's forgiveness,
may be Christ to others in this great sacrament of healing, mercy and peace.
It is my prayer that many thousands of priests and laity will have access to the mercy,
consolation, healing and inner peace of Christ Jesus through the Whole-Life Confession.
Fr. Bill Watson, S.J.
December 12, 2022
Feast of Our Lady of Guadalupe



Course Creator's Preface
Fr. Bill Watson, S.J.
The Examen and Confession Practice of Ignatius and the First Jesuits
In the early months of his conversion, Ignatius Loyola set off on pilgrimage to the Benedictine monastery of Monserrat. When he arrived, one of the first things he did was make a general confession. He was about thirty years old at the time and the year was 1522. Ignatius spent three days writing out his confession which was customary in that time.
It was his desire to make the confession on the feast of the Annunciation. With the detailed Examination of Conscience (Examen) guides written by the Benedictine leader of Monserrat, Abbot Cisneros, every category and shade of sin Ignatius committed in his thirty years could be catalogued, written down, confessed and forgiven.
This begins a life-long practice for Ignatius of both reviewing his life with his own unique form of the Examen and his practice of frequent confession. And what St. Ignatius practiced, he made part and parcel of the Society of Jesus' formation process and daily spiritual regimen for all Jesuits.
Like Ignatius' method for training Jesuits, pastoral work with the laity did not shy away from the Examen's focus on sin. However, the Jesuits sought generally to highlight the more positive aspects of spiritual growth and God's mercy.
The emphasis of Pope Francis' pontificate on mercy is deeply rooted in his Ignatian formation. This positive, mercy-focused approach matched Ignatius' own graced experience of God's love for him as a forgiven sinner. Ignatius said late in his life that he did not think there had been in the history of the Church someone who had sinned as much as he had who had been given so many graces.
The practice of frequent confession that Ignatius may have learned through Cisneros' writings evolves into a pastoral aid that the early Jesuits widely recommend to all types of people. Its goal was to help an individual "begin to make a new book of one's life." Ignatius' application of the general confession as a review of one's life to aid in spiritual growth caused its acceptance in the wider stream of Catholic practice.
Jesuits offered most of their spiritual direction in the confessional. Many of these early Jesuits would have brought to their confessional ministry the formative experiences of the Exercises, where even the meditations on sin in the First Week "were contrived to elicit gratitude."
Learning to Bring Your Whole Life to Reconciliation
The Whole-Life Confession is based on Part One of Forty Weeks: An Ignatian Path to Christ with Sacred Story Prayer. This very dynamic and holistic method helps you integrate your spiritual, intellectual and psychological/ emotional history. Those who have completed it have been amazed how it helped them "see their whole life" as if for the first time.
The WLC method for this course is grounded in Ignatian spirituality. This means it is focused on helping those who take the journey to access areas of their lives where they need God's healing the most. For some people, this means remembering things they may have pushed out of consciousness. It can create anxiety to encounter experiences from your past. However, If they still have energy that upsets you, it means they can greatly benefit from surfacing and deeper healing by the Divine Physician.
Since the goal of the Whole-Life Confession journey course is to bring healing, hope and peace, each person must enter the courser with a generosity of heart and spirit.
St. Ignatius' spirituality rests on the interior freedom of the individual. No one can/should be asked to do that which they don't want to do.
But this is the balancing act in making a decision whether to engage the WLC journey in the course. You should make a discernment based on a peaceful heart, not an anxious or fearful heart. The enemy of human nature (St. Ignatius' name for Satan) uses fear to keep us from making choices that bring us closer to God and our own peace. So yes, choose freely, but choose in peacefulness and not from fear. If you proceed with the journey, pay attention to the frequent invitations to say aloud: Be Not Afraid!
To help you make the decision, go to our website: sacredstory.net. Sign up to be a member (it costs nothing) and go to the Member's section. There you will see a heading "FORTY WEEKS – Primary Materials." Click on the document that says: "Experience of the Whole-Life Confession for Participants and Priests." These testimonies will help focus your heart on what you want and desire.
It is my firm conviction that if you learn anew how to make your confession in the method put forth here, and you find a regular confessor for the sacrament (monthly is highly recommended), nearly all the spiritual direction you will need in life will be available to you. Be Not Afraid!
Course Creator-s Preface.pdf
Complete and Continue